Free Construction Proposal Template for 2021
Looking for free construction proposal templates? You have come to the right place! Below is a list of proposal templates for the most common type of construction projects. There are proposal templates for Construction, bathroom renovation, Kitchen remodeling, painting and solar installations. Sample text and example prices included. These proposals are in comparison to PDF or word templates 100% editable online. No need to download. Use them as an inspiration and make them your own.
Table of content:
Construction proposal template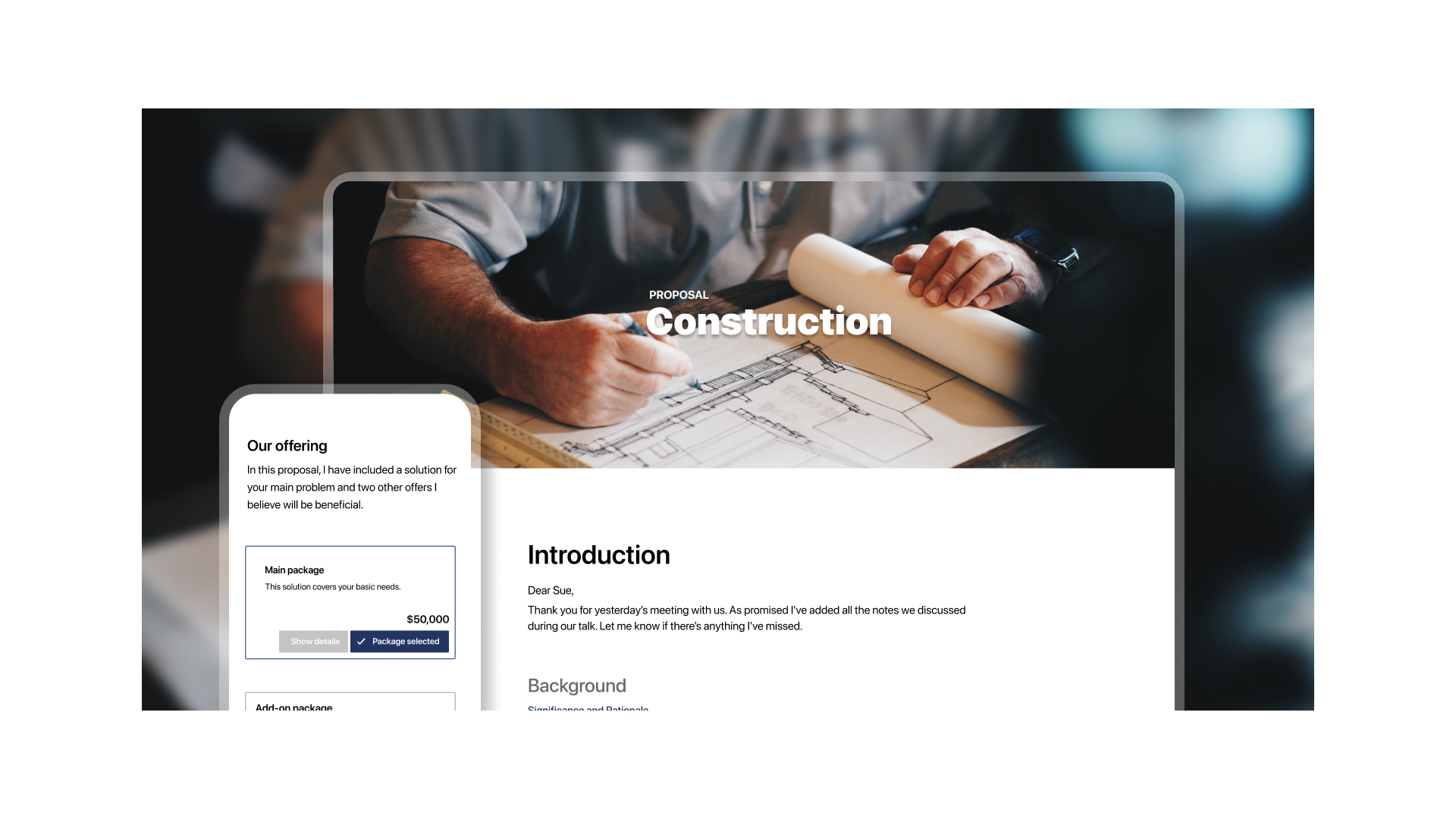 This construction proposal template can be used for general construction type of work. Including remodeling, demolition, kitchen and bathroom renovation. It's a great template for professional construction companies that want to show their clients why they should pick them. It includes sample text and prices for material and work.
Click here to get the construction proposal template
Bathroom renovation proposal template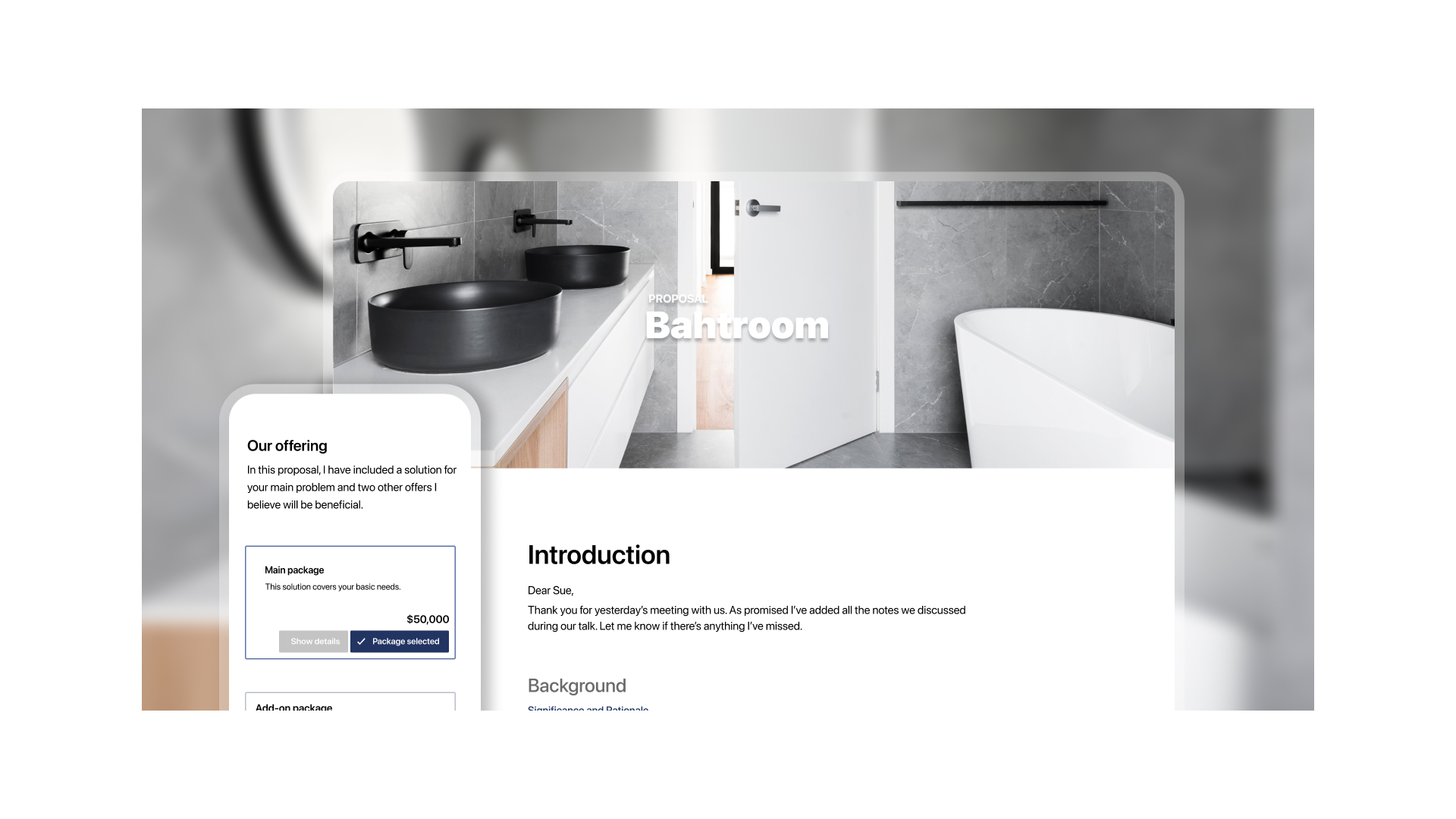 This free proposal template for a bathroom remodeling is 100% customizable to fit your needs. It includes sample text and prices for wiring, heating floors, plumbing etc. The format is editable online and you do not need to download a PDF or word template. It is complete with example texts for the most common type of bathroom remodeling.
Click here to get the Bathroom remodel template
Kitchen remodel proposal template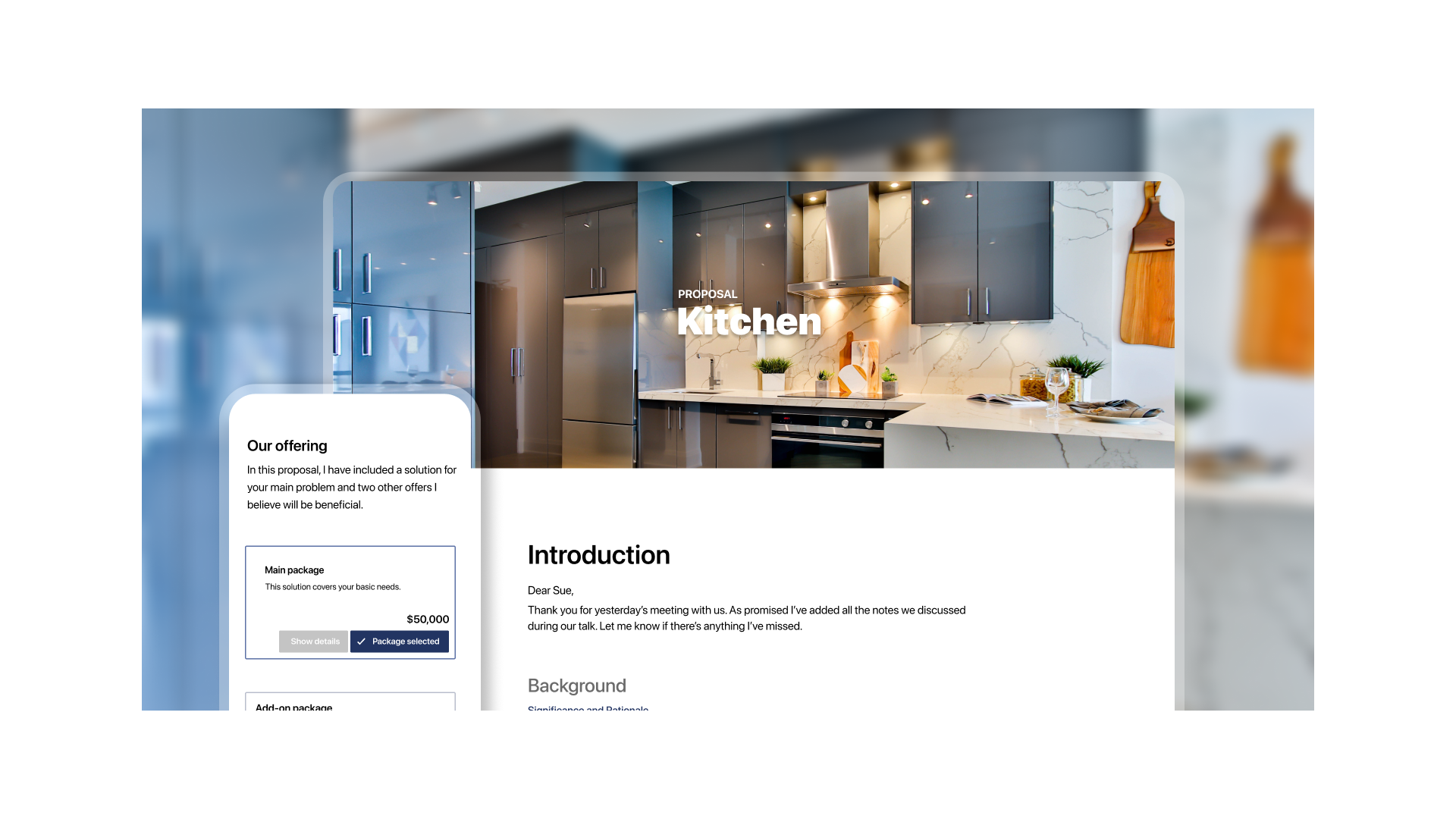 This proposal template for a kitchen renovation includes all the text you need to create a good looking template. With pictures and testimonials you can really show your client that you know what you are doing and get an edge over your competitors. By using the interactive pricing module you can show extra services your client can click and add to increase the average order value.
Click here to get the Kitchen remodel template
Painting proposal template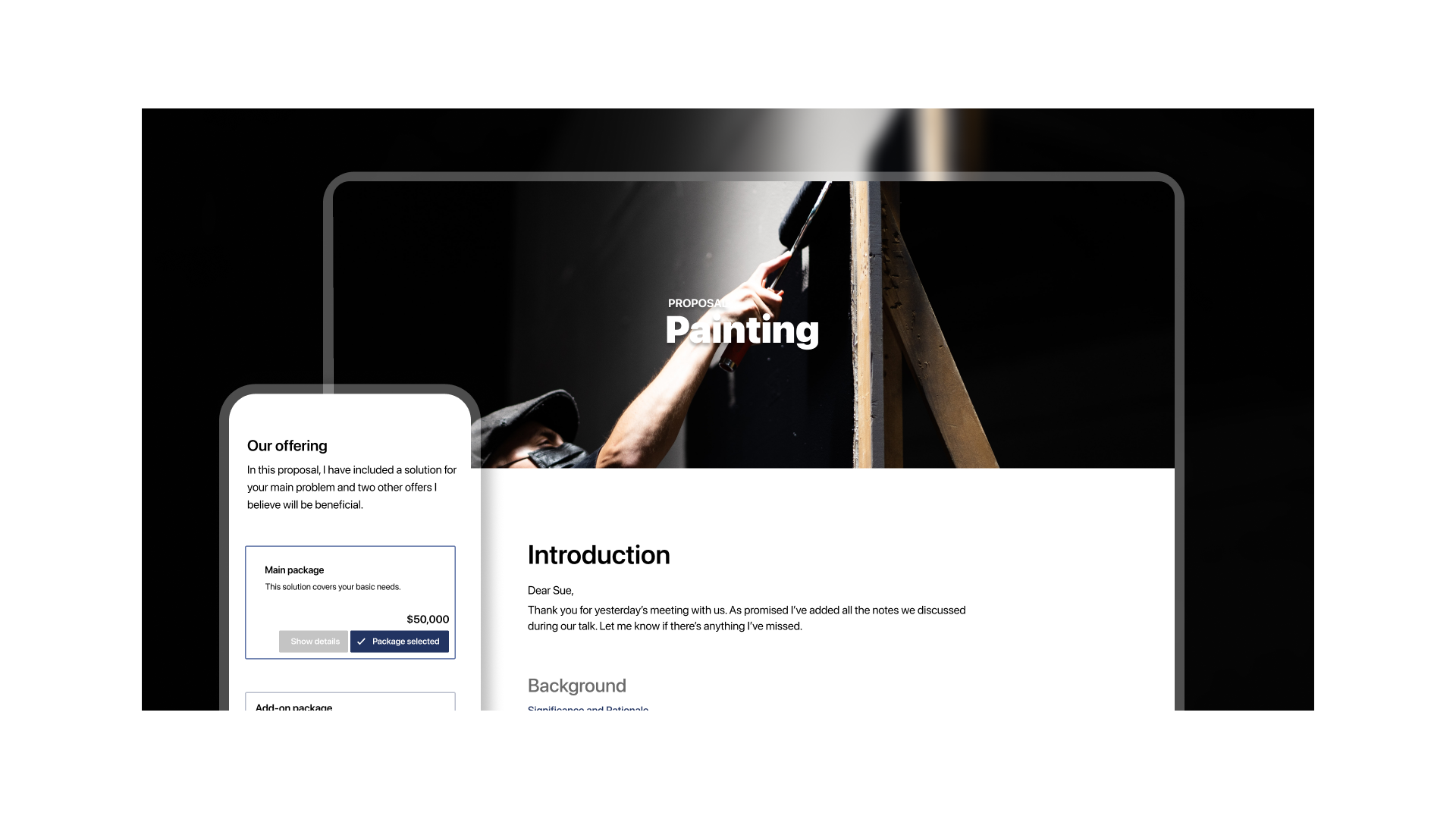 This is a professional proposal template for painting companies. Complete with sample images and text that you can use freely or draw inspiration from. Professional painters use these templates to describe the project and showcase previous work.
Click here to get the Painting template
Solar installation proposal template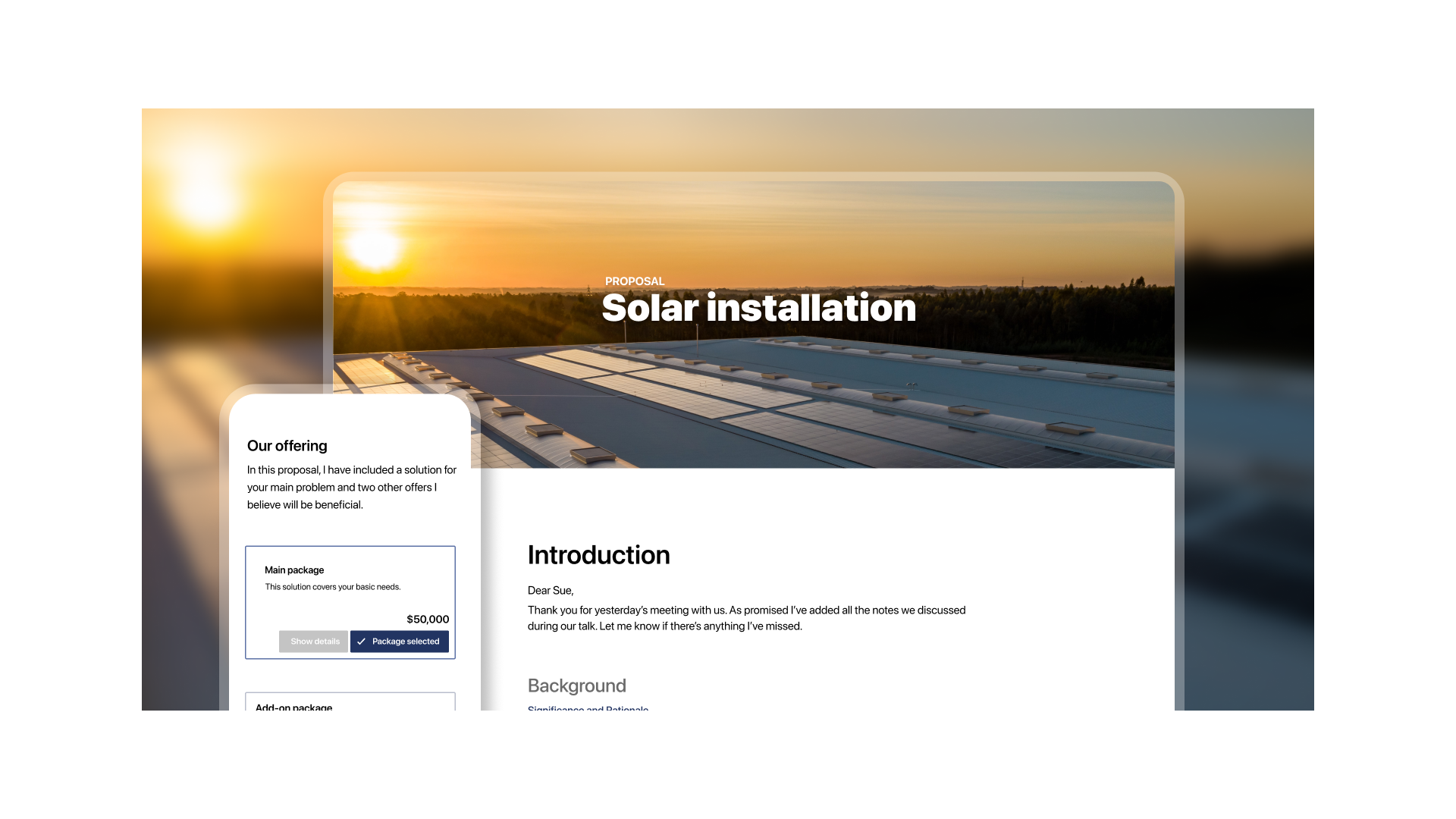 This is a proposal template for solar installations. It is aimed at consumer solar projects but can easily be adapted to fit commercial solar projects. In the template you can show the saving calculation, how much carbon the client will save and the payback time of the installation. The solar template is complete with example text for guarantees and product information.
Click here to get the Solar installation proposal template
Want to know more about what you should include in your solar proposal template? check out this post.
Do these templates not match your needs? You can create your own from scratch!
Proposal templates that are better than PDF and word templates.
In comparison with templates based on PDF or word documents these proposal templates are:
100% scalable
Interactive: Your client can click to add extra products and services
Packed with smart solutions like e-signing, auto reminders and insights.
What should be included when you write a construction proposal? (with examples)
I have helped thousands of construction professionals create proposals that close more deals. I have also been part of conducting an analysis of over 50 0000 accepted construction proposals (5 takeaways to increase your close rate). Below you will find some parts that you should consider including in your construction proposals.
How to write a construction proposal template.
Below you will find an outline of what parts to include in your construction proposal. Important is to make it unique so use the sample texts below as an inspiration to craft your own.
1. Introduction
Remember, your client is probably talking to more than one contractor. Make sure they remember you by starting your proposal with a personal message that connects back with your client. (Here are more examples of messages to put on your proposal)
Hi Name
Thank you for the meeting last week. It is an interesting project and we are grateful for the opportunity to present this proposal to you based on our discussion.
We have a long experience with similar projects and are very much looking forward to add you as one of our happy clients.
Make sure to read the proposal carefully. If you have any questions or concerns - don't hesitate to reach out.
If you think all looks good, it's possible to accept this proposal att the bottom of this page.
Looking forward to working with you.
Br.
Your Name
2. Testimonials
Before you jump in and describe your project and prices. Try building some trust with your customers. This can be in the form of one or more customer testimonials or a badge with your ratings on a rating site such as trust pilot or google.
Tip: Remember to keep this short and to the point. Your client are going to firstly be interested in your price, so use information that the client can comprehend with a glance.
3. Project description
It's time to describe the project, materials used and the price of labour. I recommend that when you are describing the project make sure that a non industry expert can understand it. A common mistake is to use jargong, which the client won't understand. So make sure to write as simply as possible. And write it in a way that is logical to follow. For example by dividing up sections of work (electricity, plumbing, installation etc). Or by dividing the project into chronological steps. "start, building, after".
Also add a section with information that is not included in the price. This will help your customer understand the limit of the projects and avoid any future misunderstandings.
Tip: Being crystal clear on what's included and what's not included will save you a lot of headaches and misunderstandings.
4. Pricing
Add a summary of what's included in the price. There are benefits and pitfalls here depending if you want to be as thorough as possible or not. The most used method is probably to divide up the price into a few categories such as labour, material, travel and waste disposal.
But you can also be much more specific and divide up by category, provide each article price etc. Remember however that this can put you up for more discussion with your client on different price points. Maybe your client finds one of the articles for a cheaper discounted price somewhere else then you need to be ready to handle that rebution. But at the same time it can show the customer a transparency in relation to other bids.
5. Extras and options
If you have any extra service or offer you can provide the client, write them here! On the docspo template there are clickable alternatives under the main project. Here you can add extra service, faster delivery or any other complementary service.
You can even let your client build part of the project themselves by adding extra features. Just like when you order a car. I cannot emphasize the strength of this enough. For one, it is upselling on autopilot. If your customers are ready to invest and have already opened their wallet, the chance for them to spend a few extra bucks is really high. There is a reason why McDonalds always asks for the supersize - it works! And you should do so.
Secondly, making your customer involved in the scope of the project provides a sense of control and a feeling of ownership that will greatly increase your chances of closing the deal.
6. Payment terms and guarantees
In this section you want your customer to understand a few important parts about how payment will be made. How often they are going to be invoiced. Are there any cancellations fees or other charges that might apply? What is the procedure if the customer wants to add or change something to your project?
Make sure to cover the most common scenarios here and phrase it in a positive and easy to read way. Here you can mix a formal language with more informal text.
Changes and additions.
If you would like us to add or change parts of the project once started we will always write an addon agreement. This way we guarantee that you can always make an informed decision. We never start any extra work without your written approval.
Quality guarantee
We alway strive to make our customers satisfied with the work we perform. We aim to deliver the highest quality and to live up to that strive we always leave x years in warranty on materials and methods used.
Payment terms
This payment agreement shall be made within 14 after project completion. If the payment gets delayed or non-payment you'll get a reminder fee of $6 and default interest is charged.
7. Why you?
So now your client has read the project, seen your price and read your terms. Why should they decide to buy from you? I think that this section should be used to highlight your unique selling points. Again, no wall of text here but make a few bullet points on some perks by buying from you.
This can be a good guarantee program. Industry experience or that you are a hungry newcomer that is looking to change the way business is made. It can be that you have high ratings or are specialized in this type of work.
Try to think about 2-3 selling points that make your business stand out.
8. Call to action or next step
Here I like to put a short ending of how they can sign the contract below and what will happen after they signed. It can for example be that we will be in contact with you within 1 business day to set up a start date etc.