Proposal template for Solar installation
Are you installing solar panels and looking for a proposal template that will impress your clients? Perfect - you have come to the right place!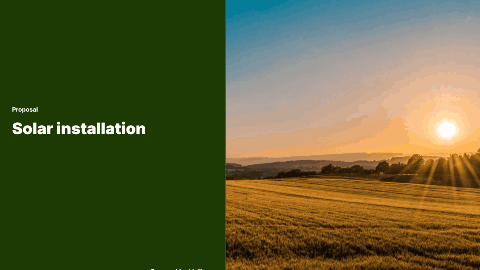 How do I use this template?
Add your customer
Add your company information
Adjust any texts and prices (the template is 100% customizable)
Remove or add any blocks
choose delivery method (email and/or SMS)
Hit send.
Note: You do not need a Docspo account to edit and preview the template. But to send it you will need a free Docspo account.
Main benefits of this proposal sample for solar installation compared to mailing a PDF or word template?
Interactive - your client can click and add extra services such as solar batteries or car charging stations straight on the invoice
Auto reminders and smart notifications - You will know everything that happens after you hit send.
E-signature - secure your deal with a legally binding contract easily e-signed by your client.
What to include in your solar installation proposals or contracts:
Introduction
Start by circling back to your last point of contact with your customer. It might have been a meeting, phone call or that they have requested a proposal by filling out a form on your website.
Briefly present your company
Your clients are probably in contact with more than one solar supplier. To put a brief introduction to your company high up in the proposal might be a good idea. However do keep this short and showcase one or two USPs (unique selling points). Right now your client is more interested in seeing price and ROI calculations than reading about you. After they realize that the price is within their budget they will move on to thinking about which supplier suits them best and that they trust the most (More on building trust further down).
Summarize the system
Provide your client with a short summary of their solar system. How many panels, how big it is and what will they save. You can also add the environmental savings they will make by installing this.
Describe the project
Give your client a thorough description of what is included in this installation (and what is not included). Try to avoid business jargon and use simple language. In my experience the better the description the less misunderstandings and arguments you will have down the road.
Are you providing them with a ready to use installation. That when you are done they will just hit the switch and start producing solar energy with all the permits and applications in order? Great! Write that!
Working with solar installations we know that some things are hard to estimate after a visual inspection. There might be hidden obstacles. The roof might not be able to support the panels needing reinforcement and so on. Write this as well and assure the customer that the described project is on a fixed price, any adjustments or additions will never be started without consulting the client first. And if the project should change during the course of the work. Make sure to get the clients approval in writing!
Extra product and services
Do you also sell batteries or Charging stations? Super! In this proposal template you can let your client click and add extra services.
Savings calculations
Give a short description on how much the solar facility will generate and what assumptions that goes in the calculations such as yearly average spot prices, efficiency decrease over time, inflations etc.
Then Highlight how much your client will save yearly and monthly!
Solar terms and agreements
Any extra terms and agreements you have you can add here. How payment is made any warranties and guarantees from you or the solar manufacturer, put that here.
Next steps
You have done this 100 times before. Your client will only do this once. Hold them in the hand all the way so they know what to expect. Finishing with a next step section detailing what will happen when they sign and how the project will progress from start to finish is a good "call to action" to incentivize them to sign your proposal.