Event proposal template
Here is a free to use event proposal template suitable for company events with included sample texts that you can use and edit to fit your company.
Click here to get to your proposal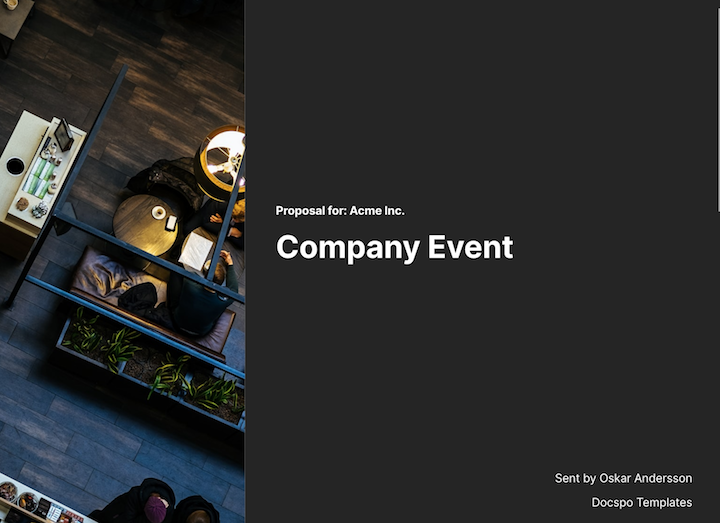 This proposal is in comparison to a PDF or word document based on an interactive webpage that is fully responsive and interactive. It will look good on any device and your customer will be able to click and choose extra packages.
How do you write an event proposal?
There is a logic to how you should write a proposal. We at Docspo have analysed over 50 000 accepted documents to really get to the bottom on how to structure a winning proposal. But in essence it's all about putting yourself in your client's shoes.
Let's imagine you are in the store and looking at sweaters. First you see the sweater from far away and think it looks good. The next step you will do is to check the price tag. Because there is a limit here. Sure you have a need to buy the sweater (that's why you are in the store) secondly, you start looking more closely at the one that caught your eye (does it match your needs?) and thirdly you look at the price (does it suit my budget).
Let's be honest it will take a while before you care about the company that makes them, that they have been in business for x number of years or how they pride themselves with certain USPs. Those parts are only relevant if all other things match with an alternative solution. Then you go deeper into why you prefer brand X over brand Y etc.
Your customers are going to go through the exact same process so do not clutter your proposal with information your client won't seek.
They have a need. That's why they have contacted you to get an estimate. The next step is to describe the project (is the sweater nice), does your solution suit the client needs. Try in this section to reuse words your client has said to you. If they are doing a "20 year anniversary event" write that, don't just write "event" or "company event".
On the note of needs. One of the strongest functions in Docspo is the ability to send proposals with clickable packages. Besides providing you with an upselling opportunity it is a way for your client to tailor the package to fit their needs. You make them feel in charge and emotionally invest in the project while your competitors send out stale offerings.
Next is pricing. Have you tried to understand what budget they have? Have you asked if they have any alternatives that they are benchmarking against? If so, try to tailor the project to match those criterias.
After you have done the first three steps you can add about your company and more "soft values. These will only be differentiating factors if everything otherwise is the same.

Looking for other templates? Check out our template gallery