Marketing proposal template
Show your future client that you can market yourself with this free to use marketing proposal template.
Click here to start edit the proposal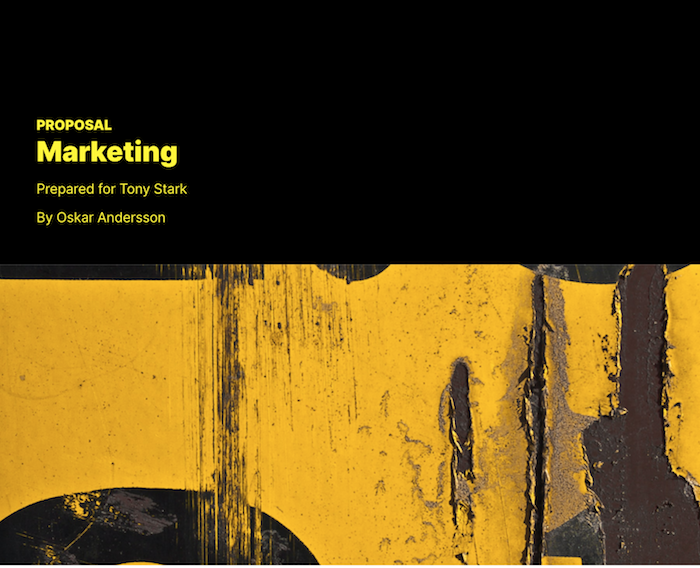 Is this template free to use?
Yes! This template is 100% free to use. You don't even need an account to preview and edit the marketing proposal. If you are going to send it to a customer you will need to enter your email.
What is included in this marketing proposal?
This sample template describes a marketing project with the goal to identify the best acquisition channels and how to implement an a/b testing strategy. The template describes a quite broad approach with both analysis, content creation and implementation. If your agency doesn't do the whole spectrum or for this particular client are just going to quote for parts of the template you can use the built in editor to remove or add text. Everything in it is 100% customizable. So take it, edit it and make it your own and save it as a template that you can reuse for future projects.
There are also sample texts suitable to put on marketing proposals such as payment terms, revision rights etc.
What's the difference between this proposal template and one sent with PDF or word?
In comparison to a word, google doc or PDF this template is more like a website. The benefit being that it is fully responsive. It is 100% responsive so it works just as well on your phone as on your tablet or computer. It is also interactive. Meaning that your client can click and add extra products and services directly on your proposal.
Some smart things to include when writing a proposal for a marketing project.
In general there are a few things that are smart to include in your marketing proposal.
Termination of contract.
If it is a project that is stretched over a longer period of time. Make sure to right what happens if the contract is terminated prematurely.
Ad spend (or client responsibility)
If your client won't commit to spend the money necessary to see any results, you will not be able to perform this. So make sure to put the client ad spend in the contract. This must not also come as a surprise for them.
Content production and revision
If it is possible make sure you add some
Looking for other templates?